From 1923 to today.
A journey on foot for several generations.
ALL STARTED IN 1923
Many years ago, in 1923, brothers Per and Olle Nylund decided to start a small shoemaking business in the northern village of Bjästa. The brothers were very skilled craftsmen and they were constantly working to improve their skills. Hard work paid off and soon the Nylunds became famous and many people wanted to repair their shoes at Per and Olle's. At that time, shoes were something that people cared about and looked after carefully. After all, they would last for many years and many miles as most people walked on foot than where they were going.
The company continued to grow with more employees. The shoemaker now had time to both repair shoes and make brand new ones from scratch. Sturdy and hard-wearing boots were often on the shelves of the Nylunds brothers and they stood for quality and craftsmanship. There were plenty of raw materials for shoemaking and a number of small tanneries in the surrounding villages that could process the shins into leather.
One of the tanneries was run by Johannes Elfving in Anundsjö in the early 1900s. And in time, Elfving also began to make shoes. He had a good supply of leather hides and his own tannery, which secured the supply of raw materials. The business grew and later moved to Örnsköldsvik and what is now called the Kulturfabriken, which today sits alongside the city's travel centre. Elfving's shoe factory will play a major role in our company's history.
FROM ÖRTRÄSK TOWARDS MOSKVA ON FOOT
In 1901, Ivar Königson was born in Örträsk, a small village in Västerbotten. When Ivar was seventeen, he felt ready to leave the safety of home and discover the world. Together with a friend, they set off on an adventure on foot, aiming north towards Russia. The distance was over 100 miles and the two friends had to work in the villages in exchange for food and shelter.
Once they reached the Russian border, some doubts arose and Ivar finally decided to turn back while his friend continued the journey towards Moscow. Instead, Ivar began the long trek back to Sweden. He followed the coast south towards Stockholm and once in the capital he quickly found work but he never really liked Stockholm. Ivar missed the nature and peace of the north and after a while he had enough and started walking back home.
When Ivar finally arrived in Nordingrå, a small village in the middle of the High Coast World Heritage Site, he got a job as a fisherman's assistant in a fishing village called Norrfällsviken. Ivar was a very enterprising man and after a few years he joined forces with a fisherman and started a smoke and canning business called Königson and Nordlander. It operated for a few years at the end of the 20th century. During the same period, shoe manufacturing took off in the area. Shoe factories began to be built in nearby villages and a new industry emerged in the area around the High Coast. Ivar became interested early on and took a job at one of the factories to learn more, even though he already knew a lot about the importance of comfortable shoes after all those miles on foot. Over time, the entrepreneurial spirit and drive to continue developing his own business became too great.
Together with a colleague at the shoe factory in Mjällom, Ivar Königson and Jacob Wedin decided in the summer of 1946 to buy the brothers Per and Olle Nylund's skilled shoemaking business in Bjästa. Ivar and Jacob began planning the move of the business to Docksta's trading post, where there was more space for the company to continue growing, and at the same time changed the name to Docksta Skofabrik. Unfortunately, the friends got off to a very bad start and in January 1947 the trading post burned down just a few weeks before the opening. They had invested their life savings in the business and although it was a blow, they were not prepared to give up. Ivar and Jacob immediately started looking for a new location and thanks to the insurance company paying out the money quickly, the company was able to open its new premises only six months later.
Elfving's shoe factory had continued to grow in Örnsköldsvik, and in 1954 Docksta Shoe Factory acquired the company, making it the largest shoe factory in Norrland. The company continued to grow with more employees and an ever larger production. Ivar's son Torsten joined the company full-time in 1959 and when Ivar passed away in 1967, he took over the management of the company. A few years later, Gunnar, Jacob Wedin's son, also took over from his father and now it was the second generation of Königson and Wedin to run the company and they had big plans for Docksta Shoe Factory's expansion.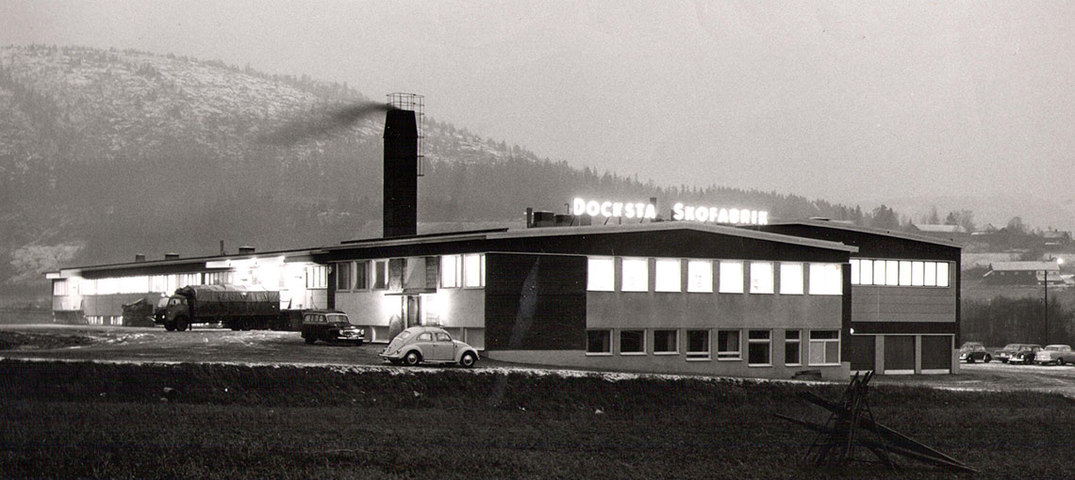 NEW FACTORY OPENED IN 1966
During the late 50s the company grew rapidly through several acquisitions of other shoe factories and the number of employees fluctuated between 160 and 200 employees. The post-war period brought a great deal of unrest and the Armed Forces re-equipped heavily, such as an order for 250,000 marching boots in 1959, which was the largest order the company had landed. Königson and Wedin then decided to go all out and build a new shoe factory. The new factory was opened in March 1966 and has served the company well throughout the years.
During the 1950s, it became more popular to wear indoor shoes. Docksta sko developed a design for indoor slippers, which were named Gunilla and Patrik, which were popular names at the time. A few years later, a children's slipper was also introduced with the name KarlAstrid, which were the names of our designer's children. Patrik, Gunilla and KarlAstrid are still our best-selling products.
Slippers became an increasingly trendy indoor shoe in the 70s and were sold mainly to wholesalers and department stores around the country. International retailers were also contacted, mainly from England and the USA, and thousands of pairs were exported. At the same time, Docksta sko developed a new model with a rubber sole, what we call clogs, which became a sales success, mainly in the health care sector, both in Sweden and abroad.
At the end of the 1970s, the Swedish shoe industry began to experience a decline, with more and more people moving their production to southern Europe, where labour and materials were cheap. But increased imports of goods also made it increasingly difficult to maintain prices and compete with international brands. Docksta shoe managed to survive quite well despite everything, thanks in large part to the large orders that were placed continuously from the Swedish Defence. But when that ended in the 1980s, our company also had big problems. The factory could no longer employ its workers and in 1991 bankruptcy was a fact. At that time there were about 70 employees at the factory, most of them living in Docksta and the surrounding area, which was a blow to the local community.
The residents of Docksta were very upset by the news. They refused to see the factory closed down and in 1992 the bankruptcy estate was bought by the local association DUAB, Docksta Utveckling AB. Torsten's son, Stefan Königson, had started working in the company full time 10 years before the bankruptcy and a few years before Gunnar had sold his share in the company. The company was divided into a sales company for which Stefan was responsible and a production company which was responsible for production and was owned by DUAB until 2005 when Stefan decided to buy back the production company and was now once again the sole owner of the entire Docksta shoe.
Stefan, who was now the third generation of Königson to run Docksta sko, was an early adopter of direct sales to customers through online sales and his own factory shop. Production was much smaller than before, but he carried on the tradition of Swedish-made slippers of good quality. As Stefan approached 60, he considered the future of the company. His children had chosen other careers and he wanted the company and production to continue in Docksta with the right buyers.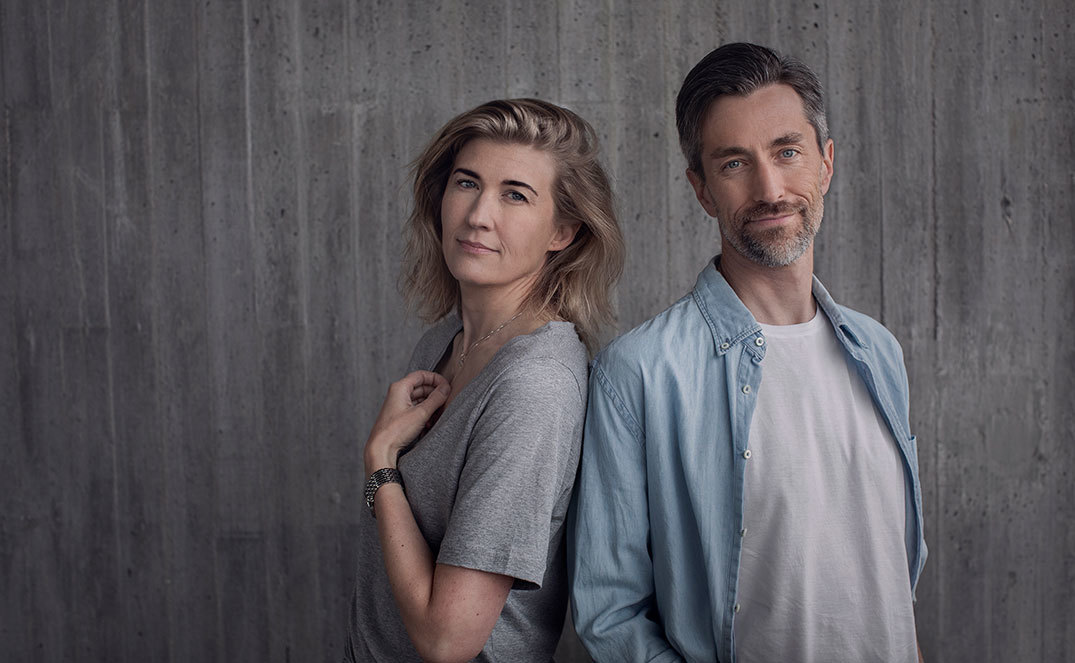 EDIN FAMILY ACQUIRES DOCKSTA SHOE
Lisa and Andreas Edin, two self-employed people from Örnsköldsvik, had during the same period been looking for a producing company to acquire. Lisa, with roots in both Anundsjö and Ullånger, knew the history of both her home town with Elfving's tannery in Näsbacken in Bredbyn and Docksta shoe factory, which she had passed many times on her way to Ullånger. With a great desire to work with a production and a love for craftsmanship, the gut feeling was good for the acquisition of Docksta shoe factory in 2015. Andreas, with a background as a digital strategist, was quickly able to understand the changes the company needed to make to improve our digital presence. Lisa was instead responsible for streamlining production, the product range and the development of the factory shop.
Now we are facing the biggest investment of our lives with the rebuilding of a new shoe factory in Docksta at the foot of Skuleberget. As Ivar and Jacob probably felt, there is a great deal of anticipation for our investment in a new shoe factory. But also a certain amount of nervousness when we have just lived through a pandemic and we once again have a war in Europe. The world is shaking and we are facing our biggest challenge - climate change. We will produce fewer products in a more environmentally friendly way that will last longer. The same idea that we believe the Nylund brothers in Bjästa had about the long shelf life of their products.
Our team consists of people from different parts of the world and we believe in a future together. A strongly integrated Sweden with viable small and large companies. A Swedish production where we have the ambition to buy much of our raw material from the local area and transport our finished goods with environmentally friendly alternatives. Docksta sko is a small family business with a big heart and commitment. We hope you feel that and that we will have the opportunity to meet. The King used to say; For Sweden - With the times. We at Docksta shoe factory want to be a part of that.
Lisa & Andreas Edin
Shoe manufacturer